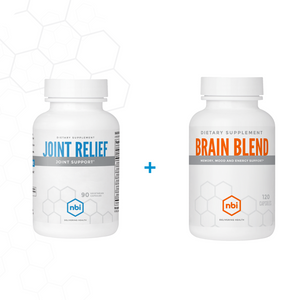 Exercise and Sports Bundle
Product Description:
NBI's Exercise and Sports Bundle provides the two most important products to supercharge any activity. Whether you're swimming, riding bikes, yoga, working out a gym, hiking or doing anything else to get you moving and increase your heart rate, the nutrients in these two products power your muscles, support healthy inflammation balance, healthy joints. Experience the difference in your stamina, focus, energy, post-exercise recovery and endurance with our Exercise and Sports Bundle.
Joint Relief
Backed by more than 25 studies, clinical trials confirm that nutrients in Joint Relief:
Support joint health, movement and physical function
Maintain normal inflammatory balance
Promote musculoskeletal health
Joint Relief provides a blend of nutrients to maintain normal inflammatory balance, helping to adjust metabolism of pro-inflammatory molecules and inhibit the synthesis of a wide variety of compounds implicated in pain and inflammation.
Joint Relief is formulated with natural ingredients, like turmeric, ashwagandha, bromelain, pine bark extract, boswellia and rutin that have been selected to help maintain a normal inflammatory response and support optimal joint health.
90 capsules per bottle, a 30-day supply
Brain Blend
Boosts memory, energy and mental focus
Supports brain health
Promotes healthy mood and learning
Supports healthy inflammation balance
Whether you want better performance in your career, school, social life or as an athlete, Brain Blend nootropic promotes healthy memory, energy, attention, mental performance and learning. Brain Blend's formula crosses the blood-brain-barrier (BBB), supports fat and sugar metabolism to fuel your brain and promotes six crucial areas of brain function: 
energy production
mood
memory
learning
focus
recall
 120 capsules per bottle, a 30-day supply.
---
Share this Product