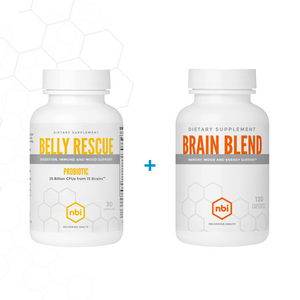 Healthy Mood Bundle
Belly Rescue
The probiotic species in Belly Rescue were carefully selected based on published clinical trials and basic research proving their health benefits. 
Belly Rescue supports healthy: 
Digestion

Skin

Mood

Immunity

Blood sugar and insulin

Cholesterol

Weight management

Liver function

Inflammation balance
Additionally, probiotic species in Belly Rescue have been shown to manufacture beneficial nutrients and neurotransmitters, including: 
Folic acid

Butyrate

Conjugated linoleic acid (CLA)

Gamma-butyric acid (GABA)

Glutathione 

Serotonin

Dopamine

Epinephrine
Each capsule provides 25 billion colony forming units (CFU) of probiotics from 15 different species, including nine Lactobacillus species, five Bifidobacterium species plus Streptococcus thermophilus, and 100 mg of prebiotic fiber blend from artichoke and chicory root.
All species are DNA-verified. Belly Rescue is shelf-stable, so refrigeration is not required. 
Want to learn more about the science of probiotics and Belly Rescue's formula? Download Dr. Neustadt' free ebook, Healthy Belly. Healthy Body: The benefits of probiotics.
30 capsules per bottle, a 30-day supply.
Store in a cool, dry place. Refrigeration is not necessary. 
Brain Blend
Boosts memory, energy and mental focus
Supports brain health
Promotes healthy mood and learning
Supports healthy inflammation balance
Whether you want better performance in your career, school, social life or as an athlete, Brain Blend nootropic promotes healthy memory, energy, attention, mental performance and learning. Brain Blend's formula crosses the blood-brain-barrier (BBB), supports fat and sugar metabolism to fuel your brain and promotes six crucial areas of brain function: 
energy production
mood
memory
learning
focus
recall
 120 capsules per bottle, a 30-day supply.
---
Share this Product