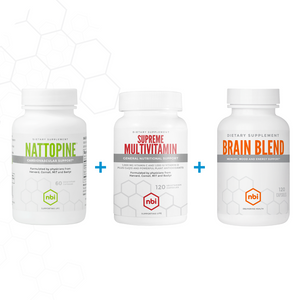 Cardiovascular Essentials
Product description:
Cardiovascular Essentials provides the three most important products that deliver the nutrients to help support a healthy heart and circulation. We found that customers were frequently combining these two products and buying them individually.
So we thought we'd make it easy and more affordable for people to get them. The Cardiovascular Essentials bundle delivers this powerful combination of products at a 10% discount.
Supreme Multivitamin
Supreme Multivitamin was created by Dr. Neustadt for his patients when he couldn't find a formula that met his high standards.
Supreme Multivitamin delivers:
the highest doses of vitamin C (1,000 mg) and vitamin D (1,000 IU) in any multivitamin and mineral supplement.

amino acid chelated minerals, which are the most absorbable form of minerals.

high doses of B-complex vitamins

additional antioxidant protection with CoQ10, grape seed extract, Turmeric root extract standardized to 95% curcuminoids, and citrus bioflavonoids.

active B12 (as methylcobalamin) and folic acid (as methylfolate) for maximum benefit.
120 capsules per bottle, a 30-day supply
Brain Blend
Promotes healthy memory, energy and mood

Supports healthy blood sugar, insulin and triglyceride balance by promoting the breakdown of sugars and fat 

Supports healthy immunity
Stimulant-free Brain Blend feeds biochemical pathways that influence how we create energy, how we retrieve memories and how we feel. Its nutrients have the added benefit of naturally supporting the body's ability to burn fat and sugars for energy. So not only can Brain Blend help you improve how people feel, it can enhance workouts and support healthy weight management and blood sugar balance.
Brain Blend can help you improve how you feel, boost your workouts and support healthy weight loss and blood sugar levels.
120 capsules per bottle, a 30-day supply.
NattoPine
Supports healthy blood pressure

Promotes healthy blood clotting and blood flow
Supports healthy inflammation balance
NattoPine contains the highest dose nattokinase from non-GMO (genetically modified organism) fermented soybeans plus pine bark extract for broad-spectrum cardiovascular support. Each serving of NattoPine provides 182.5 mg (3650 fibrinolytic units) nattokinase and 300 mg of pine bark extract.  
Research shows nattokinase helps support healthy circulation and promote healthy blood clotting. NattoPine also contains powerful antioxidants from pine bark extract to protect blood vessels from damaging free radicals.
60 capsules per bottle, a 30-day supply
---
Share this Product