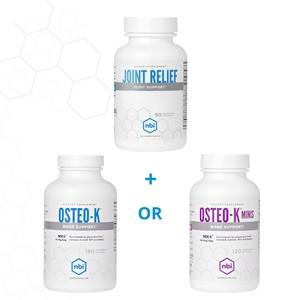 Bone and Joint Essentials
Product description:
Bone and Joint Essentials provides the two most important products that deliver essential bone and joint nutrients. The nutrients in the Bone and Joint Essentials bundle have been shown to maintain bone strength, support healthy bone density and promote healthy range of motion and inflammation balance. 
So we thought we'd make it easy and more affordable for people to get them. This bundle delivers this powerful combination of products at a 10% discount.
Joint Relief
Backed by more than 25 studies, clinical trials confirm that nutrients in Joint Relief:
Support joint health, movement and physical function
Maintain normal inflammatory balance
Promote musculoskeletal health
Joint Relief provides a blend of nutrients to maintain normal inflammatory balance, helping to adjust metabolism of pro-inflammatory molecules and inhibit the synthesis of a wide variety of compounds implicated in pain and inflammation.
Joint Relief is formulated with natural ingredients, like turmeric, ashwagandha, bromelain, pine bark extract, boswellia and rutin that have been selected to help maintain a normal inflammatory response and support optimal joint health.
90 capsules per bottle, a 30-day supply
Osteo-K or Osteo-K Minis
Maintains strong bones
Supports healthy bone density and bone matrix
Promotes healthy bone marrow
Supports immune system health and healthy inflammation balance
Adequate calcium and vitamin D throughout life, as part of a well-balanced diet, may reduce the risk of osteoporosis.
To meet the unique nutritional needs of different people, NBI has created two versions of Osteo-K, the original Osteo-K® formula for those who need more calcium and Osteo-K Minis for those who require less calcium from a dietary supplement. If you're not sure which product is right for you, click here.
In addition to providing calcium (1000 mg/day) and vitamin D3 (2000 IU/day) for bone health, Osteo-K delivers 45 mg of MK4® (menaquinone-4) per day to more closely match the clinical trials.

NBI's MK4 is a form of vitamin K2 derived from Orange Jasmine (Murraya paniculata) leaf geraniol extract. As a nutrient, MK4 has many positive effects on the body. Research on MK4 (45 mg/day taken in divided doses) shows that it builds stronger bones by promoting healthy bone density and bone matrix, which are associated with reducing fracture risk.
Clinical Trials: More than 25 clinical trials involving over 7000 people show that MK4 (45 mg/day in divided doses) maintains strong bones. One meta-analysis of clinical trials concluded that MK4 (45 mg daily) maintains strong bones as indicated by decreasing fractures more than 70% (Cockayne S et al. 2006;166(12):1256-1261). 
Another review of the data that evaluated 19 randomized, controlled clinical trials involving 6,759 volunteers reached the same conclusion--MK4 (45 mg/day in divided doses) maintains strong bones as indicated by reducing fractures (Huang ZB et al. 2015;26(3):1175-1186).
A more recent systematic review and meta-analysis published in 2022 confirmed the earlier research. This study pooled data from 10 randomized, controlled clinical trials with 5,413 women ages 45-81 years old. The data showed that MK4 promotes maintains strong bones as indicated by 62% fewer fractures in volunteers (Ma ML et al. 2022;10:979649).
Each bottle contains a 30-day supply.
---
Share this Product